Objective
This article aims to describe the steps to follow when encountered a translation freeze or what to do when the Systran application is not translating anymore.
Description
When translating multiple large files or when simultaneously translating large amount of texts (via text or API) sometimes you may encounter this issue, where the translation job freezes or even after hours the file is not translated.
Steps:
1/ Check the status of the services
2/ Check the queue management for any stagnant queue
3/ Check the logs
Observations and steps
1/ Check the status of the services
From the application monitoring windows and the server terminal: See this article below to check the status of the services.
If a service is down then restart the service in question
systemctl restart [name_of_service]
If the service doesn't start or if the error is coming from a particular component, then check the logs of the component
journalctl -u [name_of_service]
For more information consult the article : [SES/SPNS]Check the status, logs of systran services and it's dependencies
If you are encountering issue on a particular language or translation resource, then check the following:
2/ Check the queue management for any stagnant queue
RabbitMQ server has it's own web interface and can be reached on http://systran:SESpassword@[SERVER]:15672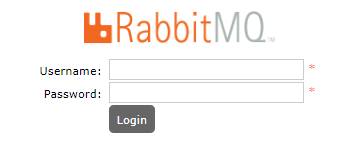 The port 15672 must be open on the SERVER firewall, check the article to know more : How to whitelist ports on firewalld
Once logged in, look for the queues

Look for running and idle queues: you can sort by column "total"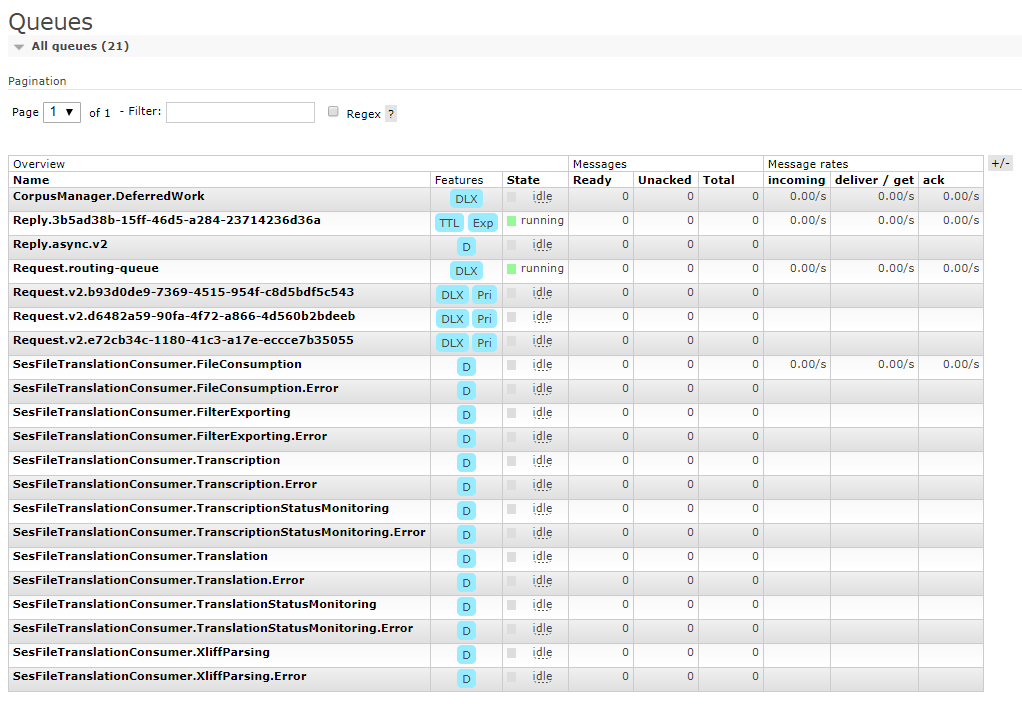 If there are messages in an idle queue then the queue is stagnant. You can also check for the queue ID of your translation engine via the interface to find the stagnant queue.
Link to article
[SES/SPNS] How to track or link a queue of Rabbit with it's associated TR
Next click on the stagnant queue to find the queue management items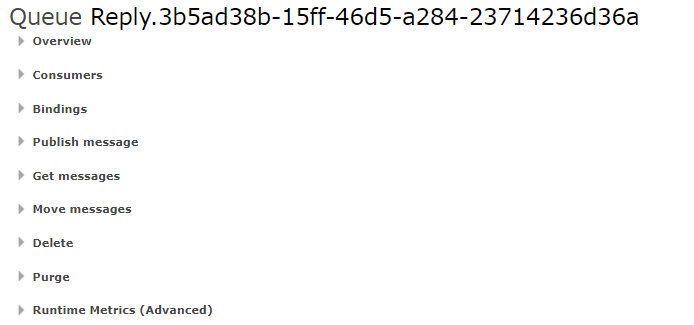 And select 'purge' to purge messages

This should delete the messages stuck in the queue. However all the pending documents or translations job has to be restarted. So basically, users will have to redo the translation request.
If purging the stagnant queue doesn't solve the issue the consider the next step.
3/ Check the logs
If necessary restart the systran-ses-file-translation-consumer.service.
Show file translation consumer logs :
journalctl -u systran-ses-file-translation-consumer.service
Restart the service :
systemctl restart systran-ses-file-translation-consumer.service