Objective
This article aimes to explain what to do when Systran Options doesn't launch after the installation of client apps
Description of issue
Systran Options is the component which allows users via a graphical interface to configure the connection between the SYSTRAN CLIENT APPS and the SYSTRAN ENTERPRISE SERVER.
After the deployment of Systran client apps on windows OS (7,8,10), it happens often to a lot of users, that they cannot configure the tool from Systran options. To be more precised when either you click on Systran Options from the Windows start menu panel or you try to launch Systran options from the Systran Tray Icon, nothing happens finally.
Resolution
To avoid this pay attention to the following step while installating the client application on your workstation running on MS Windows.
Close all running office applications including skype or Lync
Right click on the client apps setup.exe and choose to launch as an administrator
Proceed untill the select components window from the dropdown list choose the option Full Installation. And make sure all the optional components are chosen (al the options should be checked)
If you are performing a Custom Installation then make sure to check the component Windows internet explorer extension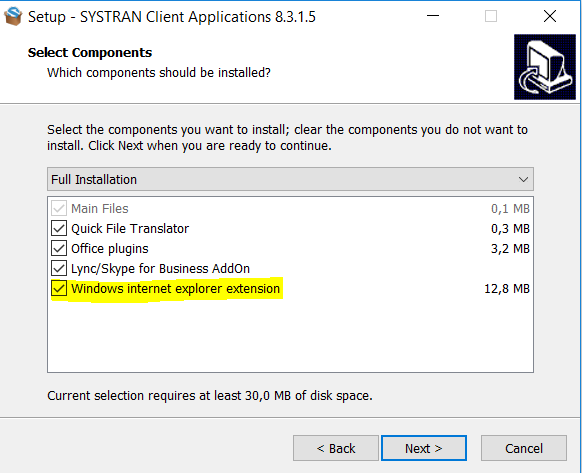 The rest is simple and stays unchanged, just follow the installater to finish the installation. Now you should be able to access/ launch Systran Options.
Configure your Systran client applications with your Systran server address and your API key (on 8904 if https or 8903 if http).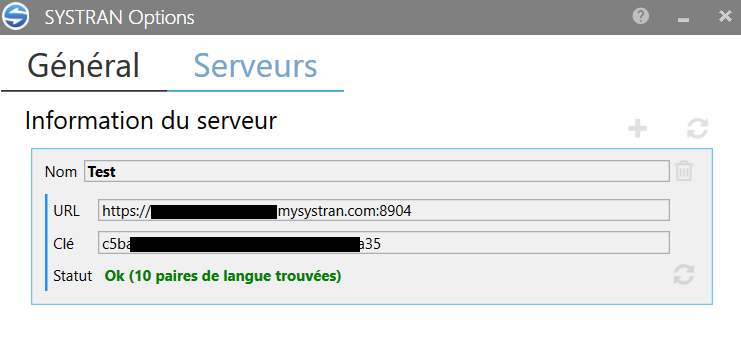 You should have an established connection along with the number of language pairs indicated in status. Restart your office applications and check the integrated Systran Tab.